Loupe Builder
Loupe Model
Create your new loupe!

Building your dream loupe is as easy as a few clicks. Just let us know what loupe model you're interested in, and what frame style and color you want to mount it on, and you're on your way!

Start by selecting your preferred loupe model from the icons below.

RDH Ergo 3.0

The RDH Ergo loupe allows you to work in comfort and preserve your careers. Our deflection optics improve posture without sacrificing vision.

Select this

HDL Ergo 3.5

By using refractive prisms to allow clinicians to sit up straight and reduce neck tilt, the HDL Ergo loupe is an ergonomic option that delivers all-day comfort.

Select this

HDL Ergo 5.0

Our HDL Ergo 5.0x magnification is our highest level offered in a deflection loupe, making it the loupe of choice for clinicians performing exacting procedures.

Select this

RDH Elite

Designed by a team of both practicing hygienists and industry recognized experts in ergonomics and infection control, the RDH Elite loupe is centered on improving ergonomics and productivity.

Select this

HDL 2.5 Micro

Developed with a generous field of view, the HDL's field depth rivals that of the Orascoptic award-winning HiRes™ 2, yet the innovative optic is 25 percent smaller than its predecessor.

Select this

HDL 2.5 Macro

This 2.5 magnification power telescope features a large objective lens and lends itself to a generous field width; making it easy for first-time loupe users to transition instruments into the field of view.

Select this

HDL 3.0

Compact and lightweight, this loupe is designed to deliver a comfort rarely associated with Galilean optics of equivalent magnification power.

Select this

HDL 3.5 Prism

A 3.5 magnification power, this prismatic expanded field loupe enables precise interactions and enhanced visibility.

Select this

HDL 4.5 Prism

A 4.5 magnification power, this prismatic expanded field loupe offers a generous field of view, high-definition resolution image and features a customized declination angle that accommodates various surgical procedures.

Select this

HDL 5.5 Prism

A 5.5 magnification power, this prismatic expanded field loupe works to improve speed and efficiency in the operatory by enabling precise interactions and bringing the the operating site closer and into focus.

Select this

Eyezoom Max

The first loupe to offer both 3.5x and 6.5x adjustable levels of magnification.

Select this

EyeZoom Mini

Featuring a two-step variable magnification technology the loupe allows the users to switch between 2.5x and 3.5x.

Select this

EyeZoom

The first and only adjustable magnification loupe, EyeZoom offers three magnification levels ranging from 3x-5x.

Select this
Frame Style
Frame Color
Headlight
Loupe Model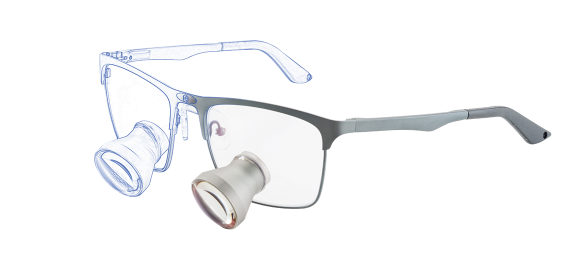 Create your new loupe!
Building your dream loupe is as easy as a few clicks. Just let us know what loupe model you're interested in, and what frame style and color you want to mount it on, and you're on your way!
The RDH Ergo loupe allows you to work in comfort and preserve your careers. Our deflection optics improve posture without sacrificing vision.

By using refractive prisms to allow clinicians to sit up straight and reduce neck tilt, the HDL Ergo loupe is an ergonomic option that delivers all-day comfort.

Our HDL Ergo 5.0x magnification is our highest level offered in a deflection loupe, making it the loupe of choice for clinicians performing exacting procedures.

Designed by a team of both practicing hygienists and industry recognized experts in ergonomics and infection control, the RDH Elite loupe is centered on improving ergonomics and productivity.

Developed with a generous field of view, the HDL's field depth rivals that of the Orascoptic award-winning HiRes™ 2, yet the innovative optic is 25 percent smaller than its predecessor.

This 2.5 magnification power telescope features a large objective lens and lends itself to a generous field width; making it easy for first-time loupe users to transition instruments into the field of view.

Compact and lightweight, this loupe is designed to deliver a comfort rarely associated with Galilean optics of equivalent magnification power.

A 3.5 magnification power, this prismatic expanded field loupe enables precise interactions and enhanced visibility.

A 4.5 magnification power, this prismatic expanded field loupe offers a generous field of view, high-definition resolution image and features a customized declination angle that accommodates various surgical procedures.

A 5.5 magnification power, this prismatic expanded field loupe works to improve speed and efficiency in the operatory by enabling precise interactions and bringing the the operating site closer and into focus.

The first loupe to offer both 3.5x and 6.5x adjustable levels of magnification.

Featuring a two-step variable magnification technology the loupe allows the users to switch between 2.5x and 3.5x.

The first and only adjustable magnification loupe, EyeZoom offers three magnification levels ranging from 3x-5x.
Frame Style
Frame Color
Headlight