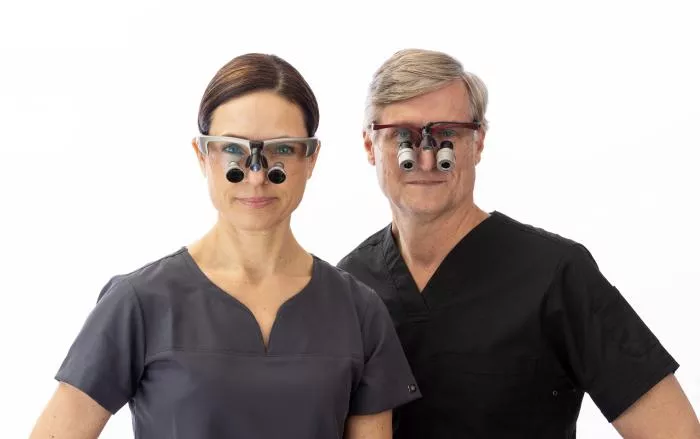 The Importance of Magnification in Implant Dentistry
Implant dentistry requires specific motor skills with intense and focused vision for several hours consecutively. However, the conditions and obstacles that we usually encounter in the oral cavity can add a considerable burden to our vision and limit our ability to perform at our best. This is one of the main reasons why loupes are the standard of care in dentistry.
During the 30 years of my career as an oral surgeon, I have noticed that at times all I needed was a little rest to fully recover my vision and restore my posture. Over the years, that need for rest intervals became more frequent and longer. That's when dental magnifying loupes helped me tremendously to become more efficient on my daily routine. I improved both my posture and vision optimizing my chair time.
What is eyestrain and how can it limit your practice?
Eyestrain is a common condition that occurs when your eyes get tired from intense use. In the oral cavity, operating sites are usually small and poorly illuminated. Under these conditions, the human eye can be deceptive when seeing fine important details leading to clinical errors that could have been foreseen when using magnifying loupes.
Struggling to see into the patient's mouth with indirect vision can also cause:
Sore neck, shoulders, or back from poor posture
Burning or itching eyes
Blurred or double vision
Headaches
Increased sensitivity to light
Difficulty concentrating
Feeling that you cannot keep your eyes open
General increased fatigue
Eyestrain can be unpleasant and disruptive to your ability to focus and perform at our best. The symptoms of eye strain may lead to physical fatigue, decreased productivity, increased numbers of work errors, and anxiety.
How to minimize risk and exposure?
Increased magnification and improved illumination of the operating field has many benefits for the operator and directly reduces eye fatigue. An enlarged view of the operating site using proper vision enhancement tools will make your practice more precise, efficient, and enjoyable.
Direct light positioned in front of you into your operating field will maximize illumination while minimizing reflective glare from the mirror and reducing shade in your field of view.
The ability to work with a high level of accuracy and improved control reduces treatment time and reduces operator fatigue. Reducing the working time to execute implant procedures results in increased patient case acceptance and profitability for your practice.

Dental Magnification and illumination: A Breakdown of the Most Relevant Products in Implant Dentistry
EyeZoom™ Variable magnification loupes: The first and only 3-in-1 variable magnification loupes, EyeZoom™ offers magnification levels ranging from 3x-5x. Developed for dental professionals who need a lower magnification during surgery but quickly need to upgrade their view of the restorative procedure will never miss an incorrect margin again. This patent-pending technology provides edge-to-edge clarity and high-definition resolution. With an ideal symmetry between style and performance, the lightweight magnesium bezel leaves a lightweight feel and an aesthetically pleasing design.

TruColor™: Having proper illumination during procedures and examinations is crucial to ensuring that critical details are not overlooked by the naked eye. While magnification may enhance your viewing field; proper lighting will work to eliminate shadows that may impede your field of view. With Orascoptic's release of TruColor™, 90 CRI (color rendering index) illumination is available for the first time across Orascoptic's range of loupe-mounted headlights and delivers more natural light that reveals accurate color without compromising brightness. Ensure your light has a high CRI to enable you to choose the right restoration color for your patient.